Welcome to Reflections at Garden Place
When you begin to search for a safe place for a loved one with Alzheimer's or Dementia, you want to be assured that they will get the help they need to stay active and engaged with the world around them. Finding the right combination of care is crucial for their quality of life, and for your peace of mind.
Reflections at Garden Place, in Columbia, Illinois, is Monroe County's first memory-supported assisted living community.
Navigating the journey of dementia care can seem daunting. We feel passionately that no family should navigate that journey alone. We are especially proud of the standard of care provided by the staff. Caring for older adults with memory loss is more than just daily assistance with physical activities; we strive to be a hand to hold and a shoulder to lean on. Providing care for our residents is a privilege.
With just 19 private apartments, Reflections at Garden Place has a cozy, family-like atmosphere where residents can enjoy television, crafts, and exercise, or maybe just relax and enjoy the changing seasons from the sunroom or the secured patio. And with a convenient location, less than 10 miles from South County Center in St. Louis, our residents even get a little "retail therapy" as part of our regular outings.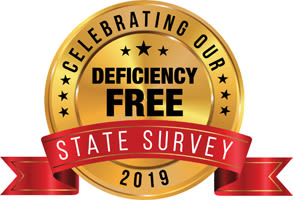 A Compass Senior Living community
Passion and Commitment
We believe in person-centered and elder-directed care. We warmly welcome you to experience our health and wellness programs, social events, book clubs, "how to" workshops and tailored exercise programs. Our team believes if you do the right thing, the right things happen. We are guided by goodness, loyalty, faith, and fun.
Memory Care Benefits
Benefits of a Columbia, Illinois, community-based memory care setting include:
Secured entry to minimize the risk of wandering
Regular human interaction and programs to engage the memory-challenged individual in daily life, minimizing withdrawal
Nutrition and exercise and social stimulation and support
Elder well-being monitoring and communication with family and health care providers
Freedom from caring for a loved one's daily needs, so families can focus on spending quality and joyful times with the individual
Schedule a visit to experience the community itself!
Adult Day Club at Garden Place
Adult Day Club at Garden Place Senior Living includes the following services and amenities:
24-hour on-duty, certified attendants
All meals and snacks
Scheduled transportation for group outings
Planned activities and social gatherings
Access to common areas – including television, craft, exercise, dining and sitting areas
Assistance in setting and meeting personal goals to remain independent and active
Medication reminders
Respite Stays at Reflections at Garden Place
Garden Place offers senior respite care where you or your family member will:
Enjoy access to personalized care services (including medication management and other assistance based on your needs)
Participate in our Life Enrichment Program
Receive delicious meals and snacks each day
Have a completely furnished room to stay
Will be a welcome guest in our home-like environment
Have peace of mind with a 24-hour care team available if you need them