Our Team
We have a great team at GreenTree at Mt. Vernon. Check back soon to get to know them and come meet them in person.
Kim Farris, Life Enrichment Coordinator
---
Kim Farris has been dedicated to GreenTree since 2003. She feels she's very lucky to have a job where she can help keep the residents happy, healthy and active. She recalls from a young age when her grandmother was in a care facility how quick the resident's faces would light up as soon as an activity or craft would start and thought what an amazing and fun job that would be. Kim says this is the most fulfilling job a person can have.
Kim has lived in Southern Illinois for over 23 years. She loves camping, fishing, hiking and spending time with her family. She has two sons and two beautiful granddaughters. She's a true animal lover and has taken care of several sick and orphaned animals in the past years. She has a dog named Eevee, who Kim claims is a spoiled brat!
Kim believes the elderly should live their lives to their fullest and be taken care of, because if it wasn't for them, we wouldn't be here today.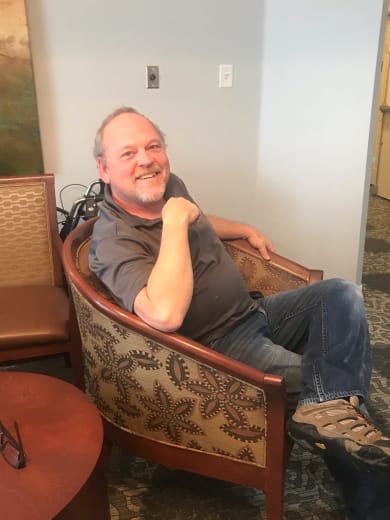 Robert George, Maintenance Director
---
Robert "Bobby" George calls his role at GreenTree his "dream job." He enjoys keeping the residents safe and comfortable while ensuring everything in their apartments and home works as they should. Bobby refers to the residents as friends and is always quick with a joke or has time to chit chat when someone needs to talk. He loves to dance with the ladies who need a partner and makes sure they take turns because there is "plenty of Bobby to go around!" When not dancing and joking with the residents, you might find Bobby camping or fishing or spending time with his wife Julianne, their 5 children and 7 grandchildren.