Our Team
We have a great team at Sun Oak Senior Living. We invite you to get to know them and come meet them in person.

Eileen Bonomo - Community Relations Director
---
Eileen comes to us with more than 20 years of combined marketing, community relations and operations background. You can tell Eileen has a genuine interest and compassion for serving seniors. She's not only a wonderful listener, but also attentive in understanding unique desires and interests in Sun Oak residents. Eileen says, "Assuring thoughtful guidance, personalized solutions and peace of mind in helping residents and families make the best informed decision is our philosophy." Eileen loves the gift of getting to know all of the residents and their families. She says coming to work every day brings a big smile to her face!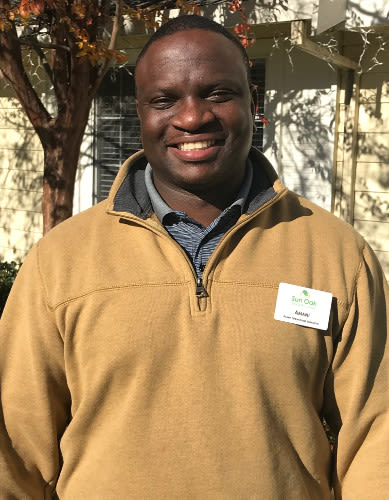 Amani Kyubwa - Plant Operations Director
---
Amani grew up in the Kongo and when he was 9 years old his family migrated to the United States to pursue the American dream. Amani now finds his dreams answered here at Sun Oak Senior Living. "Working with the elderly makes each day unique.  I come to work with a smile on my face and my tool belt ready and waiting to embrace their day's needs and help them feel safe in their environment." When Amani is not at work exchanging laughs and new ideas with his residents, he is at home enjoying the presence of his wife and their beautiful daughter. He also couches track and field at the local high school. Amani states that Sun Oak has taught him a lot about love and what it means to work with a team-this is his home away from home.