Our Team
We have a great team at Evergreen Memory Care. Stop by anytime so we can connect in person. We would love to meet you.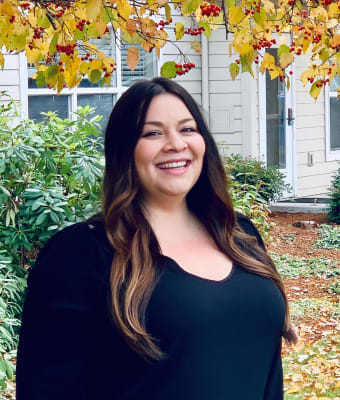 Rachel Aguilar, Community Relations Coordinator
Rachel is the Community Relations Coordinator for Evergreen Senior Living. She assists the Community Relations Director on all marketing, sales, and outreach for the campus. In addition, she helps plan events that promote and collaborate with our area community partners. Previously, Rachel had careers in hospitality, event management, and client relations.
Rachel has always been very close with her Grandparents and spent a lot of time with them and their friends as a child. Connecting with elders comes naturally to her and is something she really enjoys. She even talks to her Grandma almost every day!
Being new to Oregon and the PNW, Rachel continues to discover new and exciting things each day. In her free time, she loves to explore with her son, her dog, and try new restaurants. Most importantly, she must watch her SF Giants baseball game any time she can, to help her stay connected to her roots.
Sandra Hilliard, Business Office Coordinator
Sandy oversees all general business and clerical operations for Evergreen. Sandy is our customer service aficionado and is the first person you meet when you walk into our Memory Care community. Sandy began her career as the Assistant Office Manager to an accounting department and has over 20 years of business and accounting experience. Not only does Sandy love people, she also loves numbers, which is what excites her about working in an office setting at Evergreen.
Sandy came to Evergreen not only to work for a company that would surround her with people, a bonus is her grandma is a resident of our Memory Care community too. When Sandy is not at work, she enjoys fishing, gardening and spending time with her family.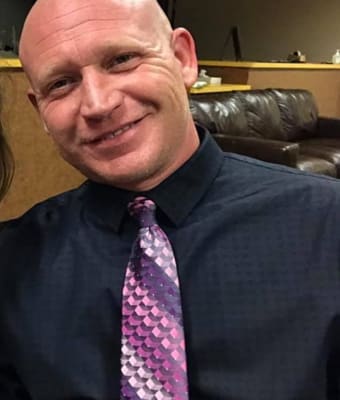 Casey Sullivan, RN, Wellness Director
Casey Sullivan is the Wellness Director for Evergreen Memory Care. His role in the community is to work as a team to provide care to our memory care residents, react to critical medical situations, educate and lead our care team, while maintaining compliance with state and federal regulations.
Casey has worked in the medical field for 18 years, starting as a medical records technician for a gastroenterology clinic in Eugene. He then went and worked for Orthopedic Healthcare Northwest, now Slocum Orthopedics, where he became a Medical Assistant, running three clinics and assisting with triage. In 2007 Casey earned his EMT certificate and began his nursing program at Lane Community College, where he finished the program with honors. Since completing his RN program, Casey has worked many notable jobs, specifically his time spent working for Signature Hospice, being a Director of Nursing, and now Wellness Director at Evergreen Memory Care.
Being a hospice nurse, Casey spent a lot of time at Evergreen Memory Care, which is what drew him to the position. He loves his job because he feels it allows him to care for a population that he feels is underserved in our communities. Casey believes it is our elderly that needs our advocacy and support, to the end of their life cycle. When Casey is not at work, he is spending time with his children, who are very active in their communities playing sports and in theater. Casey enjoys working in his yard, hiking, and watching horror movies.
Joana Castro, LPN
Joana has spent most of her career caring for the aging population and is inspired by her mother, a former caregiver. Prior to earning her licensed practical nursing degree in the fall of 2014, Joana worked as a caregiver, medical aid, and CNA. After nursing school, she branched out to nursing positions in the local county jail, and for county and private clinics. When an opportunity arose with Evergreen Memory Care, Joana decided to return to her roots. She now feels that she has found home. Joana enjoys working with our residents and putting smiles on their faces. "When I leave work," Joana says, "I know that I have made a difference."
Janai Moore, Resident Care Coordinator
Janai is the Resident Care Coordinator at Evergreen Memory Care. Previously to Evergreen, Janai was a Medical Technician for 15 years. Most of her Medical Technician career has been spent working inside assisted living communities.
Jani was drawn to the position because she has always felt a sense of connection with the elderly and wanted to gain more insight and experience into their world. She was curious how to care for a person with Alzheimer's and dementia and wanted to learn more about the disease, to better take care of them in the communities. Janai loves that every day is a challenge, and yet every day she feels her soul is rewarded and enlightened by our elderly.
Janai is passionate about family. She is a mother of two amazing and a grandmother. Her sisters are her best friends and have been the greatest teachers in her life. When Janai is not at work, she is gathering with her family, enjoying food, fun, laughter, and each other.
Taylor Culbertson, Dining Services Director
Taylor designs the menu daily and enhances the residents' lives by serving healthy and delicious food. Prior to working in healthcare, Taylor worked in many high-end restaurants, cooked for many elite events, such as the Billboard awards, and for the award-winning restaurant in Las Vegas, Carson Kitchen. Taylor earned an associate degree in Occupational Services in the Culinary Arts. Taylor loves working in healthcare because he gets to apply his professional experience towards a community that may not necessarily be able to enjoy a restaurant experience. When Taylor is not at work, he is off road racing and considers this hobby to be his biggest passion in life.
Sally Molidor, Life Enrichment Coordinator
Sally enhances our residents' lives through therapeutic activities such as music therapy and exercise. Prior to coming to Evergreen, she worked in roles including Activities Director, Social Services Designee, Admission and Marketing Coordinator for nursing facilities in California and Nevada. Sally holds an Activity Coordinator Certification from Chabot College and is certified specifically to care for those with Alzheimer's disease. Sally works at Evergreen Memory Care because she likes making a difference in the lives of our residents. In her spare time, she loves to sing.
Samuel Bonini, Maintenance Director
Samuel oversees facilities for the Memory Care and West Cottages. He joined the team in November 2017 as a caregiver, working multiple shifts. As the Maintenance Director, Samuel's main role is to ensure that all maintenance concerns are addressed and completed swiftly so that both properties are clean, safe and well maintained. In addition to his position, Samuel is the Chairman of the Safety Committee at Evergreen Memory Care and has held the position since 2018. One of the main reasons Samuel enjoys working for Evergreen Memory Care is because he feels he has some of the best residents and teammates of any care facility. He also likes working for a company where he knows there is opportunity for growth and personal development. When he is not at work, Samuel is an artist. He loves cooking and spending time with his family.