The Evergreen Senior Living Team
We have a great team at Evergreen Memory Care and the full Evergreen Senior Living Campus of Care. Contact us anytime. We would love to meet you.
Debby Johannes, Administrator
Debby has been involved in the senior health care industry since 2008. Compass' core values of goodness, loyalty, faith, and fun are what drew Debby to the Evergreen community and company. Previously she was the Business Office Manager, Human Resource Manager, and Executive Director for a 79-resident Memory Care community. After that, she became the Executive Director for a 70-resident Assisted Living, Independent Living, and Memory Care community.
Debby is passionate about the work she does and feels it is an honor to spend time daily with this remarkable and resilient generation! Daily, Debby is reminded of how blessed she is on her journey, being surrounded by a team of dedicated, compassionate, loving people who give selflessly every day to bring joy and meaning to the lives of our seniors.
In Debby's free time, she loves to travel with her husband, walk her greyhound dog Joe, spend time with any of her 22 grandchildren, and enjoy nature by going hiking or biking.
Sandra Hilliard, Business Office Coordinator
Sandy oversees all general business and clerical operations for Evergreen. Sandy is our customer service aficionado and is the first person you meet when you walk into our Memory Care community. Sandy began her career as the Assistant Office Manager to an accounting department and has over 20 years of business and accounting experience. Not only does Sandy love people, but she also loves numbers, which is what excites her about working in an office setting at Evergreen.
Sandy came to Evergreen to work for a company that surrounds her with people, and, as a bonus, her own grandma is a resident of our Memory Care community, too. When Sandy is not at work, she enjoys fishing, gardening, and spending time with her family.
Brandie McCune, Community Relations Director
Brandie comes to us with over 12 years of combined experience in property management and marketing. While growing up, she always had a heart for seniors and often turned to them as a young person for direction. Even now, she values her elders and what can be gleaned from them, and she finds it rewarding to assist seniors on this journey and to help improve the quality of their lives. Brandie has lived in Lane County for the past 21 years with her husband and their beautiful daughter, Chloe. They enjoy worshipping in church together, singing, and playing music. She centers her life around God and finds great comfort in knowing that He knows the plans for our lives, and his thoughts toward us are good, to give us a hope and a future (Jeremiah 29:11).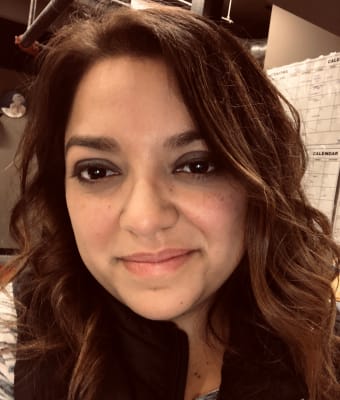 Lauren Crawford, Community Relations Coordinator 
Lauren has always had a heart to help people. She has helped take care of her grandmother for many years and has enjoyed working with seniors in other aspects of her life. Lauren, her husband, and their two dogs recently relocated to Oregon from Artesia, New Mexico. She has a BA in directing and playwriting from San Francisco State University. Since 2011, she was able to use her degree while working for the Artesia Arts Council at the Ocotillo Performing Arts Center where she was the Education Director and managed the company's digital marketing endeavors. This position allowed her to work with large groups in the community; young and old. While working in the arts she was able to branch out to working at her local senior center and with underprivileged youth. She is thrilled to be the Community Relations Coordinator and learning all about the residents, the campus, and the community.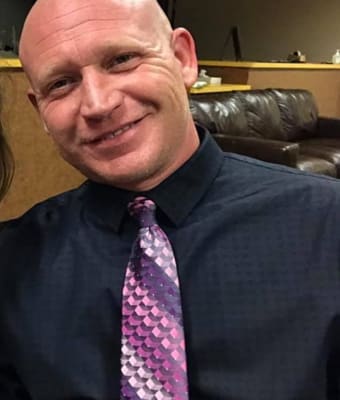 Casey Sullivan, RN, Wellness Director
Casey Sullivan is the Wellness Director for Evergreen Memory Care. His role in the community is to provide care to our Memory Care residents, react to critical medical situations, and educate and lead our care team, while maintaining compliance with state and federal regulations.
Casey has worked in the medical field for 18 years, starting as a medical records technician for a gastroenterology clinic in Eugene. He then worked for Orthopedic Healthcare Northwest (now Slocum Center for Orthopedics & Sports Medicine) where he became a Medical Assistant, running three clinics and assisting with triage. In 2007, Casey earned his EMT certificate and began his nursing program at Lane Community College, finishing the program with honors. Since completing his RN program, Casey has worked many notable jobs, specifically his time spent working for Signature Hospice, being a Director of Nursing, and now Wellness Director at Evergreen Memory Care.
Being a hospice nurse, Casey spent a lot of time at Evergreen Memory Care, which is what drew him to the position. He loves his job because he feels it allows him to care for a population that he feels is underserved in our communities. Casey believes it is our elderly that need our advocacy and support, to the end of their life cycle. When Casey is not at work, he is spending time with his children, who are very active in the community, playing sports, and in theater. Casey enjoys working in his yard, hiking, and watching horror movies.
Sarah Morales, LPN Wellness Coordinator
Sarah Morales started caring for seniors in 1999 in an assisted living as a kitchen aide. She fell in love with the seniors and moved into caregiving, then became a certified nursing assistant, a certified medication assistant, followed by nursing school and graduated with her LPN in 2013. She has a passion for the seniors, loves to make them smile and listening to their stories. She has worked closely with the Alzheimer's Association in Colorado, Hospice care teams, has worked in assisted living, memory care, long term care and skilled nursing.
Sarah Moved to Eugene Oregon in 2006 from Fort Collins Colorado. She met her husband in 2008 and was married in 2010. She has a son and boy/girl twins. She loves to go to the coast with her family and loves camping.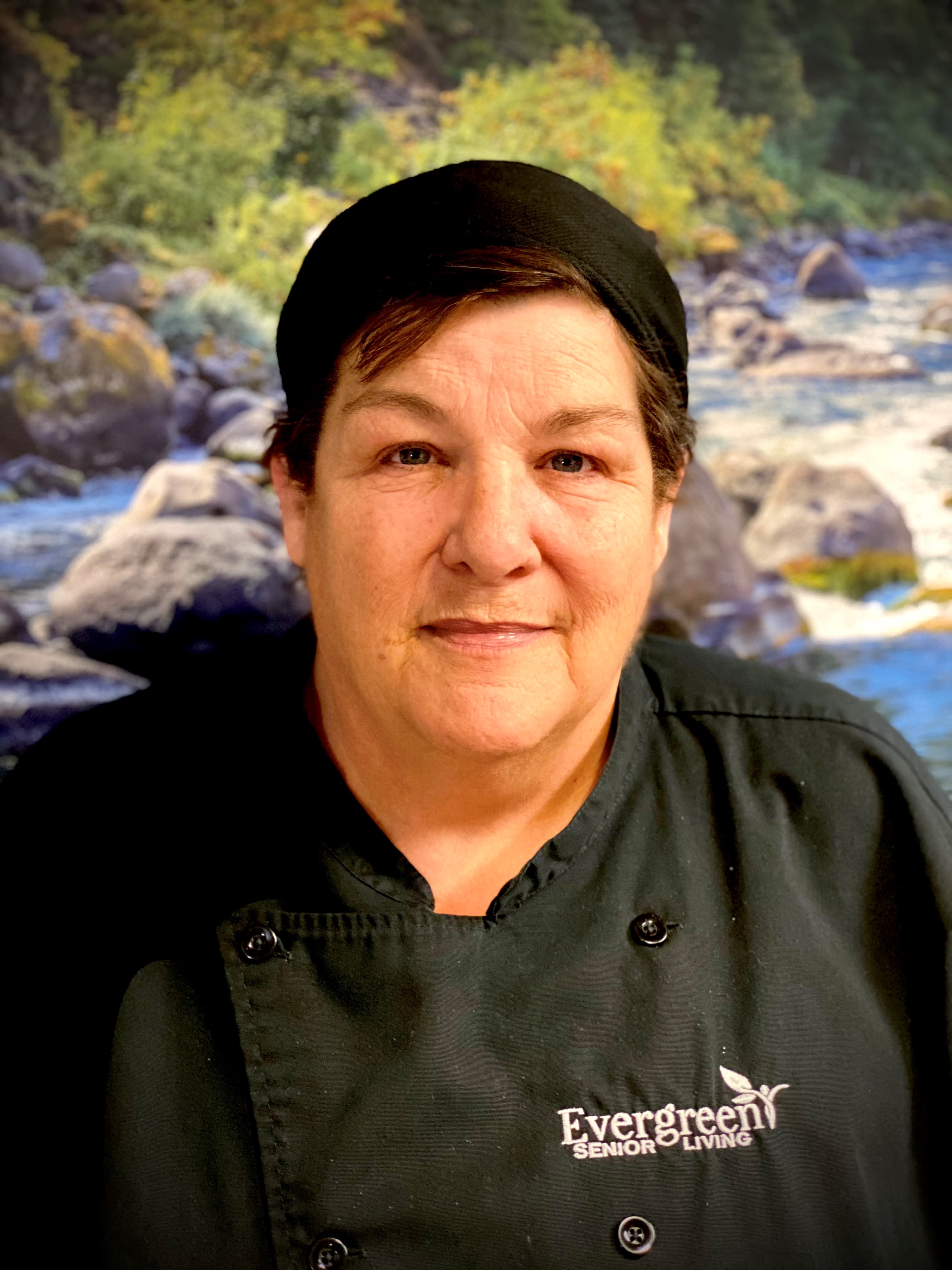 Mary Sheridan - Dining Services Coordinator
Growing up in a household of five, Mary learned to cook when she was fourteen years old. Feeding a large family, meant that many hands make light work. Thus began Mary's step into the culinary field. Mary stuck with it and learned how she could make a living making good food. Combined with her drive to serve and please others, Mary has become an expert in her position, here at Evergreen Senior Living since 2016. In her free time, Mary enjoys spending time at home and working in her yard.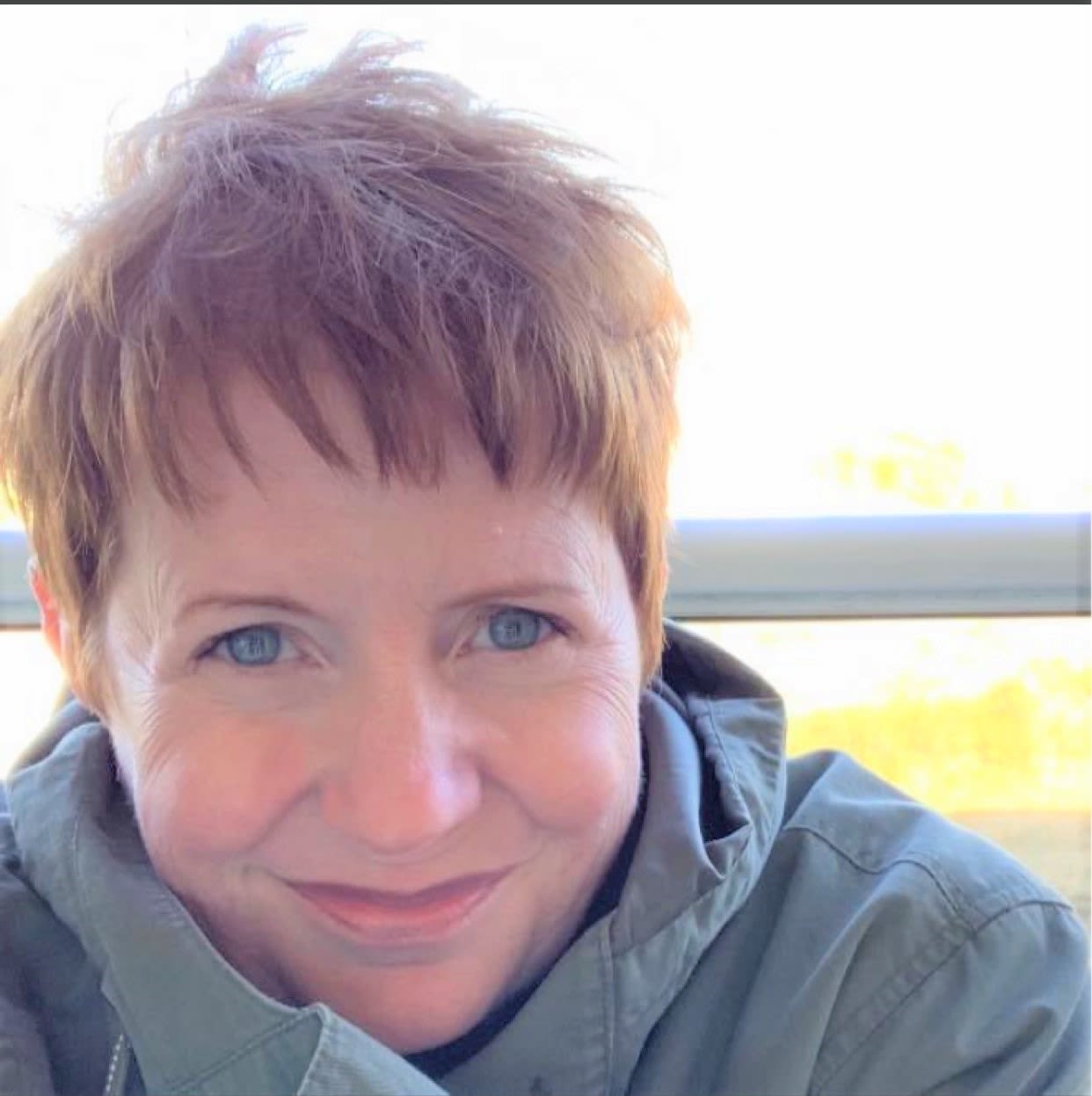 Suzanne Jagger, Life Enrichment Coordinator, Independent Living
Suzanne is truly an all-ages people person! When she lived in Boise, she cherished her years working with kids of all ages at a childcare center, and also as a Sunday school teacher. Volunteering for Meals on Wheels made her realize the importance of social interaction and fellowship with lonely, isolated senior citizens. She lives by the motto that, "A stranger is a friend you haven't met yet."
After earning her BS in Criminal Justice from Boise State University, she was ready to make a difference in the prison system. After her infamous question: "Do we make cupcakes for the inmates' birthdays?", she realized that she was too nice for the criminal justice system and began her volunteer work at a hospice.
She and her family moved to Oregon in 2017 for one reason... the ocean! She is a diehard Boise State Bronco fan but will happily cheer for the Ducks (as long as they aren't playing against her Broncos). She and her husband have three sons and a fat old dog named Badger or aka Kenny Doggins.
Sally Molidor, Life Enrichment Coordinator
Sally enhances our residents' lives through therapeutic activities such as music therapy and exercise. Prior to coming to Evergreen, she worked in roles including Activities Director, Social Services Designee, Admission and Marketing Coordinator for nursing facilities in California and Nevada. Sally holds an Activity Coordinator Certification from Chabot College and is certified specifically to care for those with Alzheimer's disease. Sally works at Evergreen Memory Care because she likes making a difference in the lives of our residents. In her spare time, she loves to sing.
Samuel Bonini, Maintenance Director
Samuel oversees facilities for the Memory Care and West Cottages. He joined the team in November 2017 as a caregiver, working multiple shifts. As the Maintenance Director, Samuel's main role is to ensure that all maintenance concerns are addressed and completed swiftly so that both properties are clean, safe and well maintained. In addition to his position, Samuel is the Chairman of the Safety Committee at Evergreen Memory Care and has held the position since 2018. One of the main reasons Samuel enjoys working for Evergreen Memory Care is because he feels he has some of the best residents and teammates of any care facility. He also likes working for a company where he knows there is opportunity for growth and personal development. When he is not at work, Samuel is an artist. He loves cooking and spending time with his family.