Our Team
We have a great team at Evergreen Senior Living. Stop by anytime so we can connect in person. We would love to meet you.
Heather Martinez, Assistant Executive Director
Heather Martinez is a compassionate leader, bringing with her over 18 years of experience working in the senior living industry. She has worked specifically at the Eugene campus since 2006, and knows all our residents by name. She started here as a caregiver, then became a Med Tech, a Resident Care Coordinator, and finally Assistant Administrator where she has been in that position for 9 years.
Heather has three kids, two daughters and a son. When she is not on the Eugene Campus, her family can be found on the field or in the courts, since sports are a huge part of her children's life. Her family loves to watch and play football, basketball and softball.
Amber K Frye, Campus Community Relations Director
Amber is the Campus Community Relations Director for Evergreen Senior Living. She oversees all marketing, sales, and outreach for the entire campus. This includes the Independent Cottages, Assisted Living and Memory Care communities. Prior to working in healthcare, Amber was the Community Outreach Advisor for Portland Mayor Ted Wheeler. Amber earned her bachelor's degree in Political Science from Portland State University.
Amber likes working at Evergreen because she enjoys advocating for the elderly, sales, and outreach. When Amber is not at work, she is spending time with her family, cooking delicious meals and exploring new restaurants around Eugene.
Crystal Wright, Business Office Coordinator
Crystal Wright started her career in healthcare in 2004 working in group homes. In 2007, She found the wonderful world of assisted living. Within her time working with seniors she has been a Care Partner, Med Tech, Activity Director, and received an Associate's Degree before landing in her new home here at Evergreen as a Business Office Coordinator in 2017. In her downtime, she enjoys spending time with her two beautiful Children and very energetic Chihuahua.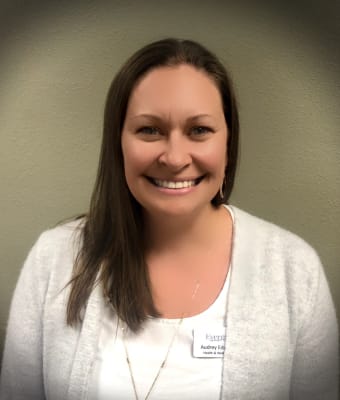 Audrey Edwards, RN, Wellness Director 
Audrey has been a nurse since 2005 and has worked in health care since she graduated high school. She has worked in the hospital for most of her career, and most recently came from Home Health. She enjoys working with seniors, as they have so many interesting stories and knowledge to share. Audrey feels like she can help make a difference in their life, while they may also enlighten and enrich her life.
When Audrey is not working at Evergreen Senior Living, she enjoys spending time with her family and dogs. She has two boys that are very active, so most of their time is spent with them and their sports.
Audrey has enjoyed her time at Evergreen, as staff and residents are kind and welcoming. There are always activities happening and she loves seeing the residents laughing while they partake.
Sarah Morales, LPN Wellness Coordinator
Sarah Morales started caring for seniors in 1999 in an assisted living as a kitchen aide. She fell in love with the seniors and moved into caregiving, then became a certified nursing assistant, a certified medication assistant, followed by nursing school and graduated with her LPN in 2013. She has a passion for the seniors, loves to make them smile and listening to their stories. She has worked closely with the Alzheimer's Association in Colorado, Hospice care teams, has worked in assisted living, memory care, long term care and skilled nursing.
Sarah Moved to Eugene Oregon in 2006 from Fort Collins Colorado. She met her husband in 2008 and was married in 2010. She has a son and boy/girl twins. She loves to go to the coast with her family and loves camping.
Angela Evans, LPN Wellness Coordinator
Angela Evans has always had the passion to help and serve others. Her dream has always been to be a nurse; however, life took a different path for her and she became a stay at home mom to raise her three children. During that time Angela was a leader in her church serving in the children's church and began working for the church school. She worked in various areas of the school including administration and teaching K-8th grade students and working as an advocate for higher education in low income communities. She graduated in 2017 from nursing school in California. Angela decided to start her career as a nurse here in Eugene Oregon to be close to her oldest daughter and grandchild. Angela has found a great honor in serving the senior community. "They have such a history and so many life lessons to teach us." Joel 2:28 – "I will pour out My Spirit on all flesh; then your sons and your daughters will prophesy, your old men will dream dreams, and your young men will see visions."

When Angela is not working you will find her enjoying life with her husband and spending time with her three children and two granddaughters. Angela loves the sun, she loves hiking, and she loves the water.
Claire Ogren, Life Enrichment Director Assisted Living 
Claire's interest into the lives of seniors began when she was a young girl, visiting Adult Foster Homes with her grandma. Seeing the personalities, as well as struggles of seniors instilled in her a desire to help people. Claire has been involved in the senior living field since 2010. Starting as a caregiver, then on to med tech, she then moved on to Life Enrichment Activities. She now can't picture herself in any other setting. Earning residents trust, providing encouragement and understanding, bring her fulfillment and joy for her position. Claire enjoys being outdoors, cooking, and spending time with family and friends.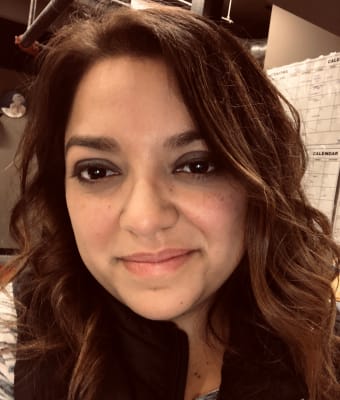 Lauren Crawford, Life Enrichment Director Independent Living. 
Lauren has always had a heart to help people. She has helped take care of her grandmother for many years and has enjoyed working with seniors in other aspects of her life. Lauren, her husband, and their two dogs recently relocated to Oregon from Artesia, New Mexico. She has a BA in Directing and Playwriting from San Francisco State University. Since 2011, she was able to use her degree while working for the Artesia Arts Council at the Ocotillo Performing Arts Center where she was the Education Director. This position allowed her to work with large groups in the community; young and old. While working in the arts she was able to branch out to working at her local senior center and with underprivileged youth. She is thrilled to be part of the team as the Independent Living Life Enrichment Coordinator and learning all about the residents, the campus, and the community.
Mary Sheridan - Dining Services Coordinator
Growing up in a household of five, Mary learned to cook when she was fourteen years old. Feeding a large family, meant that many hands make light work. Thus began Mary's step into the culinary field. Mary stuck with it and learned how she could make a living making good food. Combined with her drive to serve and please others, Mary has become an expert in her position, here at Evergreen Senior Living since 2016. In her free time, Mary enjoys spending time at home and working in her yard.
Ralph Perez, Maintenance Director
The Evergreen Senior Living Campus is extremely fortunate to have Ralph as our, Maintenance Director. You can always catch Ralph with a smile on his face and a positive attitude, while keeping our campus running. Ralph comes to us from California, where he worked remodeling homes for over 15 years, including 10 years in maintenance, working as a director for Girl Scouts of America. He and his wife both have grown children and they enjoy visiting their families whenever possible. He enjoys the outdoors and taking his 3 dogs for walks (a German Shepard named Oso, and two Chihuahua's Tiny and Biggy). Ralph loves working around people, taking care of them, and bringing a smile to their face – knowing that they have someone who cares about them and appreciates them.