Timber Pointe Senior Living


Join Our Team

Discover the Joy of Caring

Do you love learning, growing, and caring for others? Do you have a heart for elder adults? If so, Timber Pointe Senior Living may be the place you are looking for to make a difference in the lives of the Greatest Generation!
How to Apply Online
We invite you to use the job portal below to view open positions at our community. In the drop-down menu for Select Division, choose the name of our community (Timber Pointe- Springfield, OR) then select the Search for Jobs button to view open positions and apply directly through the portal. For additional information, email us at sayhello@timberpointesl.com.
Are You Right For the Job?
Together we are working to create a culture of caring where elders and care team members can grow and learn together. We need you on our team to help make this happen!
We believe the quality of relationships is a basic human need for all of us, including the elder generation. We want care team members who:
Want to be friends and have fun with the elders who live here.
To show them how to connect with their family on Facebook®.
To hold their hand.
To listen to their stories as they share their wisdom.
You may need them to guide and advise you or to learn lessons from their experience. We need one another! Your role is important.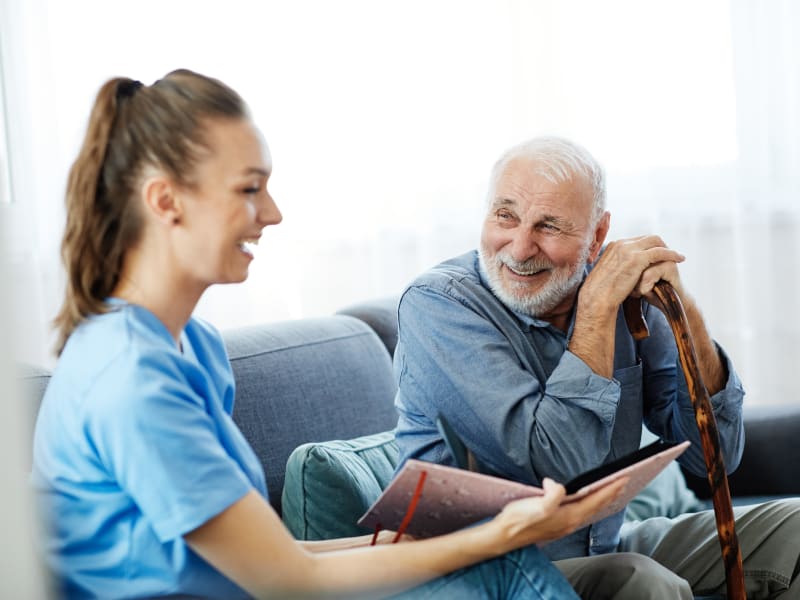 A Loving Home-Like Experience
You have the opportunity to give the gifts of dignity, respect, intelligence and kindness to elders who are so deserving of the kindness you have to share.
We believe as a team member at Timber Pointe Senior Living, you have an opportunity to shine and demonstrate creativity - both in service and creating a loving home-like experience in the Compass Senior Living family. You are a valued team member in our community!
Experience needed:
Experience working with teams to collaboratively create a caring culture.
Providing an individual experience for those who have special preferences or needs.
Understanding the importance of being present for another person.
Caregiving experience or a passion to learn. We provide education and shadowing with experienced care team members.
Must be able to pass a criminal background check and drug testing.
Our core values are important to us. If you are guided by goodness, loyalty, faith, and fun, we would love to hear from you.
Timber Pointe Senior Living